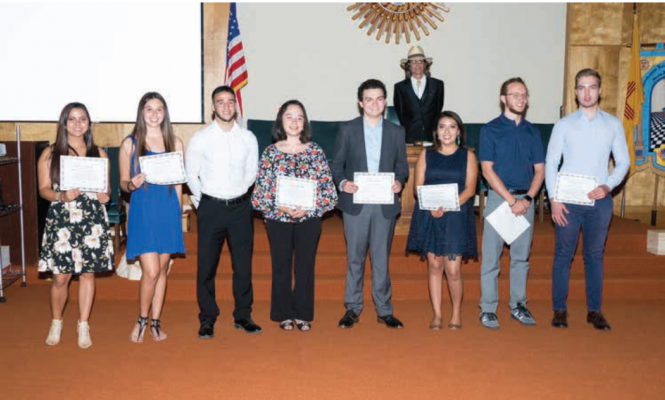 First-Year-of-College Scholarship Awards
Montezuma Lodge grants each year several scholarships to assist first year college students from Santa Fe with related costs. This scholarship is open to all students residing in Santa Fe with active plans to attend a qualified college level studies program in the upcoming year. The amount of the scholarship grant is $2,000 or more as funds are available per awarded applicant.
   * * *  Scholarship applications are due each year approximately May 1.  Please submit the application form prior to that date * * * 
Download the application HERE, print, fill out by hand, and deliver it by deadline date.  If you would like to type in the information electronically, please download the application with forms. Once filled out, it can be printed with your answers typed in. An association with Masonry is neither required nor relevant for consideration. The Scholarship Committee will screen all applications before conducting personal interviews with those applicants deemed most promising. The awards will be announced by early June followed by an awards ceremony conducted on late June.
The money granted may be used for any expenses incurred relating to college studies during the first year of college including tuition, room and board, books, texts and supplies, travel to and from school, etc. The discretion of how to spend the scholarship is left solely to the student. All awarded students must submit to the Lodge a copy of a letter of verification from the school after enrolling.
The following will be considered in awarding scholarship:
the applicant's civic-mindedness and leadership potential as demonstrated by his or her activities both
scholastic and extracurricular, recommendations, honors obtained, offices held, and so forth;
the applicant's financial need;
the applicant's grade point average earned during the Junior and Senior years of high-school; favorable consideration may be given to those students who have shown a significant positive improvement in grades or have undertaken advanced studies during this time;
the applicant's choice of college or university and the field of study they wish to pursue. Emphasis is given to local colleges and universities unless the pursued field of study is not available within the State of New Mexico;
and
the applicant's attached essay, which should be 150 words in length written by the applicant on the subject:
"How a College Education will Improve Myself and My Contribution to Society."
Applications may be mailed to:
Montezuma Lodge No. 1
Scholarship Committee
431 Paseo de Peralta
Santa Fe, New Mexico 87501-1958
Applications may also be hand delivered to the Secretary's Office of Montezuma Lodge between the hours of 1:00p.m. and 4:00p.m., Monday through Friday.  The building is located just west of the Scottish Rite Center.  If the office is closed, place the application in an envelope and deposit it into the curb side mail box marked 431.  Applications usually are due by May 1.
Image: Mark Oldknow with First-Year of College scholarship recipients. June 2017
---
Indigenous Language Grants
Montezuma Lodge supports various programs that promotes education and learning. In 2018, Montezuma Lodge provided scholarship money to support two indigenous language programs at the San Ildefonso Pueblo and the Cochiti Pueblo.  Donations from the membership and the public are key to ensuring continued success of our programs.  We greatly appreciate the wonderful contributions we have received that are used towards our mission of promoting charity and education.
Image: Charles Hannaford[left], Jee Hwang, and Scott Jaquith present scholarship check to support language program and Cochiti Pueblo. June 2018
---